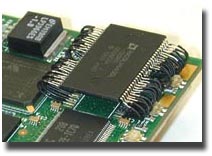 Murphy's Law: "If anything can go wrong, it will".
When is this more true than when the pressure is on. Possibly it's a long awaited prototype that is desperately needed to appease investors, a new product that is severely behind schedule, or simply a common production run where a bug suddenly surfaces.
It doesn't take much to completely derail a project, and recovery can sometimes be extremely difficult.
We have extensive experience performing precision modifications to boards of all complexities, and have developed innovative methods to solve the unique problems presented by new or unusual package designs.
Silicon Integration has the expertise needed to correct miswired BGA or QFP devices, flip busses, and disconnect PCB traces buried in inner layers.
Our customers rely on Silicon Integration to apply our engineering and creative background to do whatever it takes to get your project back on track.