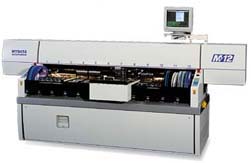 At Silicon Integration we fully support New Product Introduction (NPI), and thoroughly understand the need for quick-turn prototypes. Our goal is to make the prototype process fast, efficient, and as easy as possible.
While specializing in high mix, the most important part of our prototyping process is the staff of qualified people, excellent equipment and sophisticated software tools.
All prototypes are assembled on state of the art production equipment. When needed, highly skilled manual assemblers perform hand placements. Our customers prototypes look exactly like production boards, of unsurpassed quality.
Turn-key Prototypes
When developing a new product, it is not uncommon for customers to stretch their resources to the limit, leaving little time to procure components.
Utilizing our Material Management system, Silicon Integration posses the tools necessary for efficient prototype component procurement, and we offer a true "turn-key" prototype service. With board files and a BOM, we take full responsibility for component procurement, management, and assembly.
Quick-Turn Prototypes
We are capable of assembling complex PCBs containing thousands of components in 1-2 working days, and with minimal formal documentation.
Precision Modifications
For those times when things don't go exactly as planned, Silicon Integration can be relied upon to perform very intricate precision modifications. Click Here for additional information.